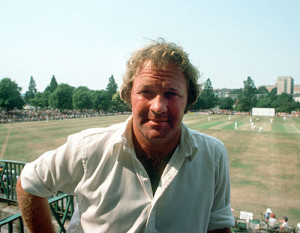 Dear Bossie
Thank you so much for wanting to help Eddie.
Just to give you a barebones sitrep we left SA because after selling the farm we had nowhere to live and Eddie had no job. I could not work as I had no residency (The department of Home Affairs kicked their heels until two months after we had left SA and then gave me residency which is now defunct as I have not been back to SA within the required time to get the sticker put in my passport).
My Mom needed someone to look after her and as it gave us somewhere to live so we came. The one person in SA who could have done something for Eddie was Ali Bacher and he made all sorts of noises to Peter Cooke but nothing happened. So we are here and luckily Eddie managed to find some work with the NE Wales setup. He works from November to April 6 hours a week at the indoor nets and then in the summer he is paid a small sum to coach the U13 representative side. He also gets expenses to coach the Marchwiel @ Wrexham premier league team. Most of the money goes in petrol that is exorbitant here. I get a small allowance from the state to look after my mother, which keeps our heads above water.
Eddie's medical bills are paid for by the NHS (about R3000 per month + the treatment he had after his heart attack and subsequent angioplasty. He needs to have his cataract done as well. If we can get the money for it. We do not need a house at the moment as we live with my mother but when she dies I don't know what we will do as I have two brothers and the spoils have to be divided up.
My main worry for Eddie is if something happens to me. He could not stay here as my mother would have to go into a home and he cannot stay by himself. He began to write an autobiography but Don Nelson (?) told him that he was too old to write an autobiography. Apparently these days you have to be about 23 to do that.
I am sure that while Eddie likes England very much as it has been so good to him he would like to be back in SA getting his teeth into some cricket coaching even if only for three months of the year. We cannot really leave here until my Mom passes away or if had to happen to me. Eddie still has so much to offer but he gets quite depressed at being on the refuse heap.
Lotsa luv
Cally and Eddie Barlow

SLT together with the W.P.C.A. brought Eddie out to South Africa in Feb 2004. initially his visit was planned for a Catarac eye operation and the naming of the Castle corner stand at Newlands, Cape Town. Due to unforseen complications it was decided to have the operation done abroad. The naming of the stands where also cancelled but W.P.C.A. invited him to be the match adjudicator for the ODI between South Africa and England at Newlands. Eddie enjoyed nine days of hospitality in Cape Town and five days in JHB. This was all funded by W.P.C.A and SLT. Special word of thanks to Peter Cooke who looked after Eddie in JHB.
While Eddie was in Cape Town a cocktail party and breakfast was hosted by the Villa Via hotel in honour of Eddie Barlow. SLT would like to thank Protea hotels and Felix Unite car rental in their assistance with Eddie's stay. Eddie was also a special guest at the SLT golf day where he met old sporting friends.
Sadly, Eddie past away on the 30/12/2005. The SLT assisted his wife Cally in bringing his ashes back to South Africa to be scatterd on his favourite ground Newlands in Cape Town. A fitting resting place for someone who was truly a great sporting legend.
The SLT has produced a booklet dedicated to Eddie which includes eulogies and tributes from many different people.
All proceeds of this booklet will go towards the SLT to help create awareness of Eddies goal to make hotels and public places more amenable to the disabled.
Bossie,Greetings Ol' Chap!! I'm so sorry I was unable to contribute to Eddie's booklet. I was away in India 1 – 23 March. I returned last Thursday evening and had difficulty accessing my mail, so, as I'm in the office today and caught up with my mail, I thought I'd contact you straight away.
As you know, Eddie was a particularly close mate and his passing has touched everyone who came in contact with him. People who didn't know us were amazed at us greeting each other – – "Good morning Mr. White", "Good morning Mr. Black", and especially in the apartheid days when you had to be so very careful with whatever you did.
However, if there's anything going on with regards to Eddie, please feel free to contact me. At the moment, it looks like I'll be here at this address until 30th June.
Kindest regards to everyone there.
Sheps (John Shepherd – the former West Indian fast bowler)
hi Sheps
How are u old chap – why you not here for the Ausie bashing ?
You are aware of the recent passing of our dear friend -Eddie Barlow
Enclosed is a short request for a eulogy from you .we are short of time
Is it at all possible to write one before today end
Please email to
nina@ninamonda.com
Kind regards
Bossie Clarke
Cape Town