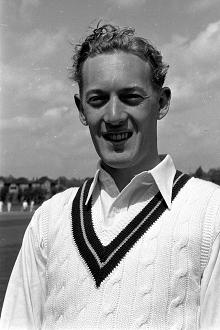 Legendary Cricketer
D.O.B: 8 March 1931, South Africa
Date Deceased: 6 January 2013, Howick, KwaZulu-Natal
Neil Amwin Treharne Adcock was a South African international cricketer who played in 26 Tests. A tall aggressive fast bowler, he could lift the ball sharply off a length. He was the first South African fast bowler to take 100 Test wickets
Unlike Procter, the Pollocks and Donald, Neil Adcock did not have the benefit of world-class support, but he still managed 104 wickets at an average of only 21. He used his height to make the ball lift alarmingly off a length. In England in 1960, Adcock was a revelation, brushing off the controversy surrounding his new-ball partner Geoff Griffin – who was no-balled for throwing – to take 26 wickets in the Tests, even though South Africa lost the series 3-0. On the whole tour, he took 108 wickets at an average of 14, and was named as one of Wisden's Cricketers of the Year in 1961 as a result.
Neil Amwin Treharne Adcock, born 8th March 1931 in Sea Point, Cape Town.
A tall aggressive fast bowler, he could lift the ball sharply at any length and was the first South African player to 100 Test wickets.
He made his Test Debut in 1953 at home against New Zealand, and finished the series with 24 wickets, including 8 for 87 in his second Test
In 1961, Neil was the Wisden Cricketer of the Year. The previous year in South Africa's tour of England, he took 26 wickets in the Tests and a total of 108 wickets at an average of 14
After retiring from cricket he became a radio commentator.
LETTER OF THANKS FROM MAUREEN ADCOCK
31 July 2012
Dear Bossie,
I just wanted to thank you so much for the financial assistance following Neil's operations. He first went into hospital on 20th March for an operation for colon cancer and the specialist originally said he would be in hospital for plus/minus 10 days. Well 4½ months and five operations later he has finally come home. As you can imagine he is still very weak and frail but is improving daily, having a good appetite and getting stronger with his walking.
Both he and I are so grateful to you and the Sports Legends Trust for your assistance in helping to pay the enormous bills that have piled up during this time. Please pass on our thanks and best regards to all concerned.
Thank you again,
Sincerely,
Maureen Adcock