Legendary Cricketer
D.O.B: 14 March 1966, Vereeniging, Transvaal
Date Deceased: 14 February 2000, Westville, Durban, Natal (aged 33 years 337 days)
Major teams South Africa, Natal, Northern Transvaal
Batting style Right-hand bat
Bowling style Right-arm fast
Tertius Bosch was a South African cricketer who played in one Test and two ODIs in 1992. He burst onto the scene while a young dental student at Pretoria University in 1986-87, moving from Northern Transvaal to Natal where he helped them to win two titles.
He appeared on the cricket scene while studying for a dental degree at the University of Pretoria in the 1986/1987 season.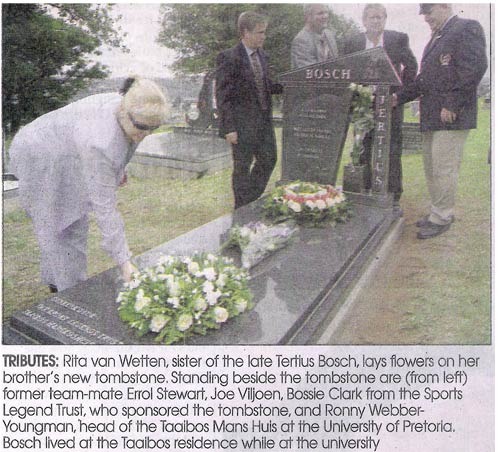 Attention: Bossie Clarke
RE: Tertius Bosch
I herewith would like to take the time to thank you for the interest you took in raising the monies to erect his tombstone. Thank you for honoring him for his contribution to S.A. sport.
From myself, Corbin & Eathan we thank you and the Sport Legends Trust for this gift to the Bosch family. May you have success in helping others with this Trust, and trust you will be blessed with good work you do for the community.
Kind Regards,
Karon-Anne
10 April 2005
Mnr Bossie Clarke
Fifeweg 4
Rondebosch
Beste Bossie
Bossie ek het nie woorde om dankie te se vir die incredible offer van jou organisasie om vir Tertius, wat soos my eie kind was, so 'n pragtige grafsteen op te rig nie.
'n Groot dankie ook dat julle vir verversings, wat met soveel liefde deur Anel gedoen en so pragtig voorgesit is, betaal het. Ek is seker dat jy net soos ons baie trots was om die gaste daarop te trakteer.
Bossie en dan die rustige en maklike manier waarmee jy die hele aangeleentheid hanteer het. Dit word baie waardeer en dit was n plesier om saam met jou te werk, ek weet dat God die werk wat julle doen baie ryklik sal seen en dat julle van krag tot krag sal gaan.
Nogmaals baie dankie vir alles en God Bless and Keep!
Groete en beste wense
Rita van Wetten en familie