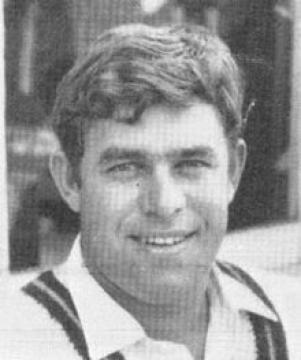 Legendary Cricketer
D.O.B.:
Deceased date:
---
Dear Friend of Hylton,
I may well have already either spoken to you on the telephone, or perhaps e-mailed you regarding this matter, — if so ,please forgive me for now repeating myself in a more formal manner !!
You are probably aware that Hylton Ackerman has been going through a particularly difficult time, and unfortunately, the deterioration in his health earlier this year has not exactly helped matters!
With this in mind a black tie dinner is being arranged where Hylton can be acknowledged and, hopefully, where funds can be generated to assist him. (see attachment ).
Ackie is aware of the dinner and has compiled a list of specific people with whom he would like to share the evening and where he in turn will have the opportunity to acknowledge special friends, sporting legends and those people who "somewhere along the line have had time for him"!
It is for this reason that I am now specifically writing to you, as you are one of those special people!
The date of the function is Thursday, 23rd November 2006, and the venue is the Arabella Sheraton Hotel, Cape Town. (This date has been specifically chosen so as to coincide with the S.A. vs. India one day test at Newlands 3 days later).
It is anticipated that approximately 400 people, largely sports legends and sport lovers will make up the attendance. Many sporting greats have in fact already indicated their intention to attend and hopefully your name can be added to this exclusive list.
Hylton would ,if he could and by choice, like to have every single sporting personality join him that night because that, for him, would really make it 'A night to Remember', so your presence there would really add massive value to the evening.
Please would you be kind enough to respond ASAP and indicate whether or not you are likely to attend.
I look forward to hearing from you, either by 'phone, fax, or e-mail, when I will be able to give you any further detail which you may require.
Kindest regards,
H O DE VILLIERS
How will the funds be managed?
It is the aim of the organizers of this dinner to ensure that all expenses incurred, are fully sponsored.
Obviously, if this is not possible, certain costs would then have to be deducted from the gross proceeds generated by the function.
All parties involved in arranging the dinner, together with those performing various functions that evening, are doing so totally free of charge.
The total net proceeds generated will then be held in Trust – the Trust Deed is currently being drafted, free of charge, by Mr Gerald Mallinick of the firm Mallinicks Inc. Attorneys, who will also arrange for the formal registration thereof.
The Trustees of the Trust will be Mr Gerald Mallinick, chairman, together with Mr M J Giles of PKF Chartered Accountants, Gary Kirsten and H O de Villiers.
The intention of the Trust is to suitably invest the said proceeds with a view to providing income to Hylton and his wife on a consistent and regular basis with recourse to the capital, where necessary, until the death of the longest survivor of the two of them! At this point the trust will be liquidated and the entire proceeds will be paid to the nominated beneficiary. It has been at Hylton's request that the Red Cross Childrens Hospital Trust, which serves all sectors of the community, therefore be recorded as the sole beneficiary, and more specifically, the Renal Unit of this Hospital.