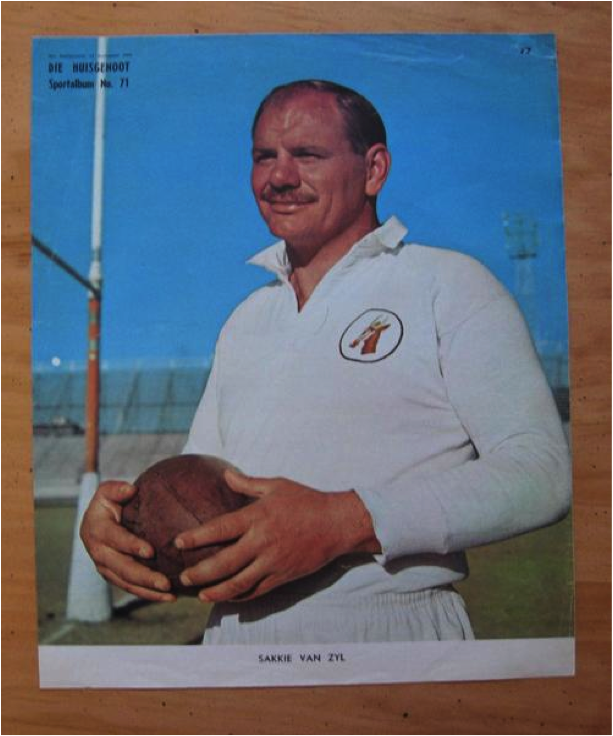 Legendary Rugby Player: Prop
D.O.B: 1 July 1939
Provincial Honors: Orange Free State (1965)
National Honors: South Africa (1965-1965)
He tried for years and years to win a Springbok cap and had always been a runner-up, never the victor. At the time of leading Orange Free State to a victory over the touring Welshmen in 1964, he was ready to retire. Danie Craven interposed. He persuaded Sakkie to play for one more year. Now, at last, Sakkie is one of the immortals who have worn the emblem of the bouncing buck in an international.
Deep down, he was said to have a fiery temper, but you would have to dig deep to find this, for he had a natural charm and a courtesy or sportsmanship which was extremely attractive. Everyone felt extremely delighted when the Tour Committee, maintained him as vice-captain for the first test, even after an injury had brought Malan, the normal forward leader, back to the side. Sakkie was that sort of bloke, everyone was usually on his side.
From a footballing point of view, van Zyl had two points of commendation, he chased harder and more conscientiously than many of his companions and he could dribble with a skill to match the very best of the old-timers. His support play in the lineout was decidedly not of the standard an All Black selector would set for an internationally.
Financial assistance given by the Sport Legend Trust for medical expenses.
Beste Bossie
Na aanleiding van ons telefoon gesprek versoek ek beleefd of die Oud-Spelers fonds nie 'n bedrae vir CGP (Sakkie) van Zyl sal oorweeg nie. Die legendariese oud-Springbok Sakkie van Zyl het hom as speler en afrigter onderskei en 'n groot bydrae tot die sukses van Vrystaat rugby gemaak.
Sakkie is al hele paar jaar ongesteld met periodiek besoeke aan die hospitaal wat die limiet van sy mediese fonds oorskry. Sy geheue is ook nie meer wat dit was nie. Indien julle 'n bydrae oorweeg sal ek dit regtig waardeer en sy bank besonderhede in Bloemfontein aan julle verskaf..
By voorbaat baie dankie vir die moontlike tegemoedkomendheid in hierdie verband.
Groete
Nielie Smith
AAN : VRYSTAAT CHEETAHS
AANDAG: MNR HAROLD VERSTER
DATUM : 30-09-10
RE : SAKKIE VAN ZYL
Hello HAROLD,
Dit was aangenaam om weer met jou te gesels.
Net n bevestiging van n bydrae van die bogenoemde fonds tot Sakkie van Zyl. Hopelik sal dit help om die tekorte met betrekking tot sy mediese fonds aanvul.
Ek wil ook graag vir Nelie Smith dankie se, dat hy dit onder ons aandag gebring het. Die Trust is daar om te help, maar ongelukkig hoor ons nie altyd van oud spelers wat miskien hulp nodig het nie.
Die bedrag is vanoggend in die Vrystaat Cheetah rekening inbetaal. Sal u asseblief dit aan Sakkie oorbetaal.
Stuur asseblief groete aan Sakkie en wens hom sterkte vorentoe.
GROETE,
Bossie Clarke
Beste Bossie,
Net om nogmaals baie dankie te se vir die finansiele bydrae aan Rugby Legende, Sakkie van Zyl.
Wees verseker dat ons die goeie gesindheid van die Sports Legends Trust besonder hoog op prys stel.
Ek sien daarna uit om jou na al die jare volgende Woensdag by Kelvin Grove te ontmoet.
Vriendelike groete,
Nelie Smith
Bossie,
Hierby aangeheg die besonderhede in verband met CGP Van Zyl (Sakkie).
BANK: ABSA
REKENING NAAM: VRYSTAAT CHEETAHS MAATSKAPPY
REKENING NR. 1570 221 567
TAKKODE: 334 334
Mnr Harold Verster se inligting is as volg:
harold@fsrugby.co.za
en sy nommer is 082 800 0337.
Groete
Nielie Smith